By Dennis Thompson, Jr.
Medically reviewed by Christine Wilmsen Craig, M.D.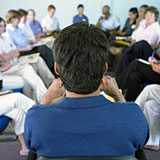 For people who are struggling with depression, support groups can be a terrific source of help and inspiration for a person battling depression. "People who are living with these illnesses can feel very isolated," says Ingrid Deetz, director of chapter relations for the Depression and Bipolar Support Alliance. "Support groups are a safe place where you know other people have experienced similar situations."
Support groups are not the same as group therapy. In group therapy, a trained therapist guides the discussion between a limited number of people, and individuals are encouraged to both share their feelings and provide feedback to the other members, says Deetz. In contrast, support group meetings often are led by someone who has struggled with depression. The meetings cover a variety of topics important to the members. You won't receive psychotherapy, but you might gain valuable insight from someone facing similar situations.
Some of the benefits you can gain from a depression support group include:
Motivation - "People say that support groups motivate them to follow their treatment plan," says Deetz. "They see that people can and do get better."
Inspiration - Support groups help people with depression understand that mood disorders don't define them. These groups show members that they can still do what theywant in life.
Education - If someone is having trouble deciding whether to tell her employer about her depression, she can talk with other people at the support group and get advice. Support group members can learn from everyone else.
Understanding - People attending a support group know where everyone else is coming from. A good support group promotes acceptance and understanding, allowing people to feel comfortable and secure.
Finding Local Support Groups
Depression is a common mood disorder — 24 percent of women and 15 percent of men will experience some form of the condition at some point in their life. Many of them seek support groups. To find depression support groups in your area, you can contact one of the following:
National organizations - The Depression and Bipolar Support Alliance and the National Alliance on Mental Illness are just two organizations that maintain referral services both online and by phone.
State mental health agency - Every U.S. state, including New Jersey, has an agency or department designated to address depression and other mental health issues. These groups maintain lists of support groups and can direct you to one in your area.
Therapist or physician - Many mental health practitioners have lists of support groups available to their patients. If you live in a rural or remote area and aren't near any support groups, you may want to consider joining an online support group. The Depression and Bipolar Support Alli-ance offers them through its Web site. Although it may seem odd that people dealing with feelings of isolation would connect over the Web, research shows that online support groups do provide substantial help to people with depression.
Choosing the Right Group
Keep in mind that the first depression support group you find may not be right for you. "All support groups are different," says Deetz. "There's no one-size-fits-all [group]." Don't be dissuaded by an awkward first meeting — attend a few meetings to get a good feel for the group and see if you feel comfortable. "We generally recommend a person attend a support group three to five times to see if it's a good fit for them," Deetz says. If the support group isn't a good match, try another one.
When scouting for the perfect support group, watch out for red flags and avoid groups that:
Focus on negative emotions and seem designed to stir up bad feelings
Offer fast results and sure-fire cures
Attempt to pressure you away from your therapist or current treatment plan
Require you to share intimate or sensitive information
Demand expensive payments or require you to purchase certain products
Your battle against depression can feel less lonely and more manageable with the right support group promoting your recovery.